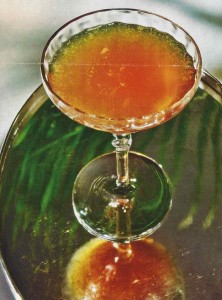 My friend Deidra likes vintage everything–vintage clothes, vintage men (not too many of them in LA, sadly) and vintage cocktails. She also likes to experiment and go off the recipe reservation when it comes to vintage cocktail recipes. Maybe she thinks if she dresses and drinks the classics, she'll attract Cary Grant.
In any event, here's her Damn Dram Wham-Bam and it packs a wallop. No wonder the Muffs like it.
2 oz. Bourbon
3/4 oz. allspice dram
1/2 tsp. gomme syrup (or more to taste)
2 dashes Angostura bitters
Pour or sprinkle all this into a shaker with ice and shake it, baby. Then strain into a cocktail glass. Decorate the rim with crystal sugar or an orange slice and mmmmm wham-bam.