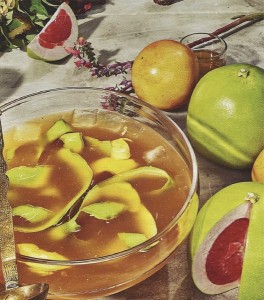 Muff wannabe Patty likes to throw parties but can't afford an on-staff mixologist. She puts out the wine bottles, the tub of bottled beer and soda and lets the guests fend for themselves. But she likes to offer a hard liquor option to those still celebrating the end of Prohibition, which frankly, is all of us. Here's her Southwestern style party punch, one-bowl wonder for a crowd. She makes gallons of the stuff, taking healthy samplings every so often as she mixes, and stores it in the fridge for later replenishment of her closed-top punch dispenser.
It's any party host's liquid liberator and inhibition annihilator.
Ingredients:
First make your oleo-saccharum (no, not a back problem; OS is the way good bartenders get the most out of citrus). You'll need:
Peel of 1 whole pomelo
Peel of half a grapefruit
2 oz. Palm sugar
2 oz. Panela (aka jiggery)
In a punch bowl, muddle the peels and sugars together to draw the oils from the peels and let sit for an hour. Then add:
8 oz. Stool blanco
8 oz. Palo Cortado sherry
4 oz. Reposado tequila
4 oz. Mandarine Napoleon liqueur
12 oz. Sparkling wine, chilled
The chilled juice of 3 pomelos and 1 lemon
4 cups of cold water
1 cup of ice
Before serving remove peels (unless you like the way they look). You could also garnish with fresh fruit slice. Note: Some of the ingredients can be hard to find but Patty fools around with various similar fruits and liquors and the stuff will still have your guests toasting your mixology skills.