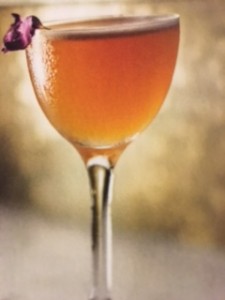 There are some cocktails that go down a little too easy. If you like bourbon, this is one such drink. Olivia Caceres, a Muff-in-waiting, thought it tasted like an unusual, yet quite delicious, kind of lemonade and she just couldn't resist. Uh-oh, Olivia!
The key here is to use Meyer lemons, not the ordinary grocery variety (though they're acceptable in a pinch) and, in advance, to whip up something completely misnamed called "shrub," which wouldn't grow in the finest of greenhouses.*
Ingredients:
1 ½ oz. Bourbon
¾ oz. Fresh lemon juice
½ oz. Strawberry-Meyer lemon shrub
½ oz. Ginger syrup (1:1 fresh ginger juice and sugar)
1 dash Angostura bitters.
Tools:
Shaker, strainer, fine strainer, gorgeous glasses (coupe, martini, whiskey sour)
 The shrub:
Combine 1 cup of granulated sugar, the juice and zest of 1 Meyer lemon and ½ cup of hulled, chopped strawberries in a saucepan and bring to a simmer. Stir until the sugar dissolves, remove from the heat and let cool. Strain, measure the liquid and add an equal measure of cider vinegar. Bottle and keep refrigerated for up to 10 days.
* I looked up why this concoction is called shrub and seems to be a bastardization of the Arabic word "sharab" which means "to drink." We use it to refer to a mixture of two related but acid-based beverages. If you don't want to whip up a batch yourself, you can buy a bottle version of shrub from—imagine–Shrub & Co.