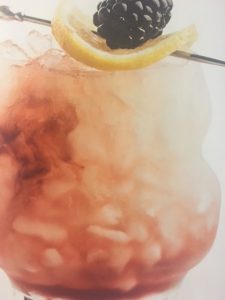 Sometimes Muff Jelicka wakes up after an alcohol-infused evening with only a vague recollection of the night before. We worry about her, though most of the time she holds her liquor quite well.
Fortunately for us, she remembers most of the month she spent in Europe between her sophomore and junior years in college–specifically the July in the south of France, where she not only sampled several varieties of cute men, but imbibed more than her fair share of cocktails. Our recollections of food and drink are often accompanied by waves of nostalgia about a particular event with friends or loved ones and that's what this cocktail means to Jelicka. It evokes a time well-worth remembering.
And so it is she tracked down this version of a gin sour, tweaked with blackberry liqueur (Crème de mure). Some call it a Bramble. Jelicka calls it, "What I did that summer," and we all know what she's talking about.
Ingredients:
1 ½ oz. Gin
¾ oz. Fresh lemon juice
½ oz. Simple syrup (1:1)
¾ oz. Crème de mure
Garnish with a Lemon wheel topped by a fresh blackberry, pierced
Fill a "rocks" glass with crushed ice and add the first three ingredients: stir to combine. Add more curshed ice if needed and carefully drizzle the crème de mure on top. Garnish.
Note: If you can't find Creme de mure, you can substitute crème de cassis (though it tastes different as cassis is made with currants) or some other berry liqueur. Jelicka won't mind.