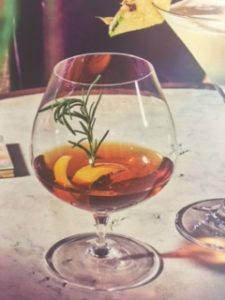 Seeing Shuffle Along got Muff Julie thinking about Josephine Baker, that fabulous entertainer who was the toast of Paris in the 1920s. Julie wondered what cocktails Josephine might have preferred to drink at all those nightclubs she frequented.  And since Julie is a professional chef, she had no trouble coming up with a cocktail that might have suited Josephine perfectly. It even has absinthe!
Allow yourself to be taken back. Here is Julie's jazzy riff on The Metropolitan .
INGREDIENTS:
2 oz. Remy Martin VSOP
1 oz. sweet vermouth
1 tsp. yellow Chartreuse
2 dashes Angostura or Orange Bitters
1/4 oz absinthe
DIRECTIONS:
Fill a cocktail shaker with ice. Add all ingredients except the garnishes and stir. Strain into a brandy snifter.
Garnish with  the following: 1 sprig of rosemary, 1 raspberry, 1 strip of orange peel.